Market opportunity analysis is a crucial factor for any business especially for those who are looking for a new business opportunity.  To have it means one will be able to establish a business if there is a new market that can be exploited in a certain area.
Market analysis is important since it can help a company raise its profits and also can predict how long a business will last.   
In this article, we are going to talk about market opportunity analysis, so let's dive in.
Get To Know Market Opportunity Analysis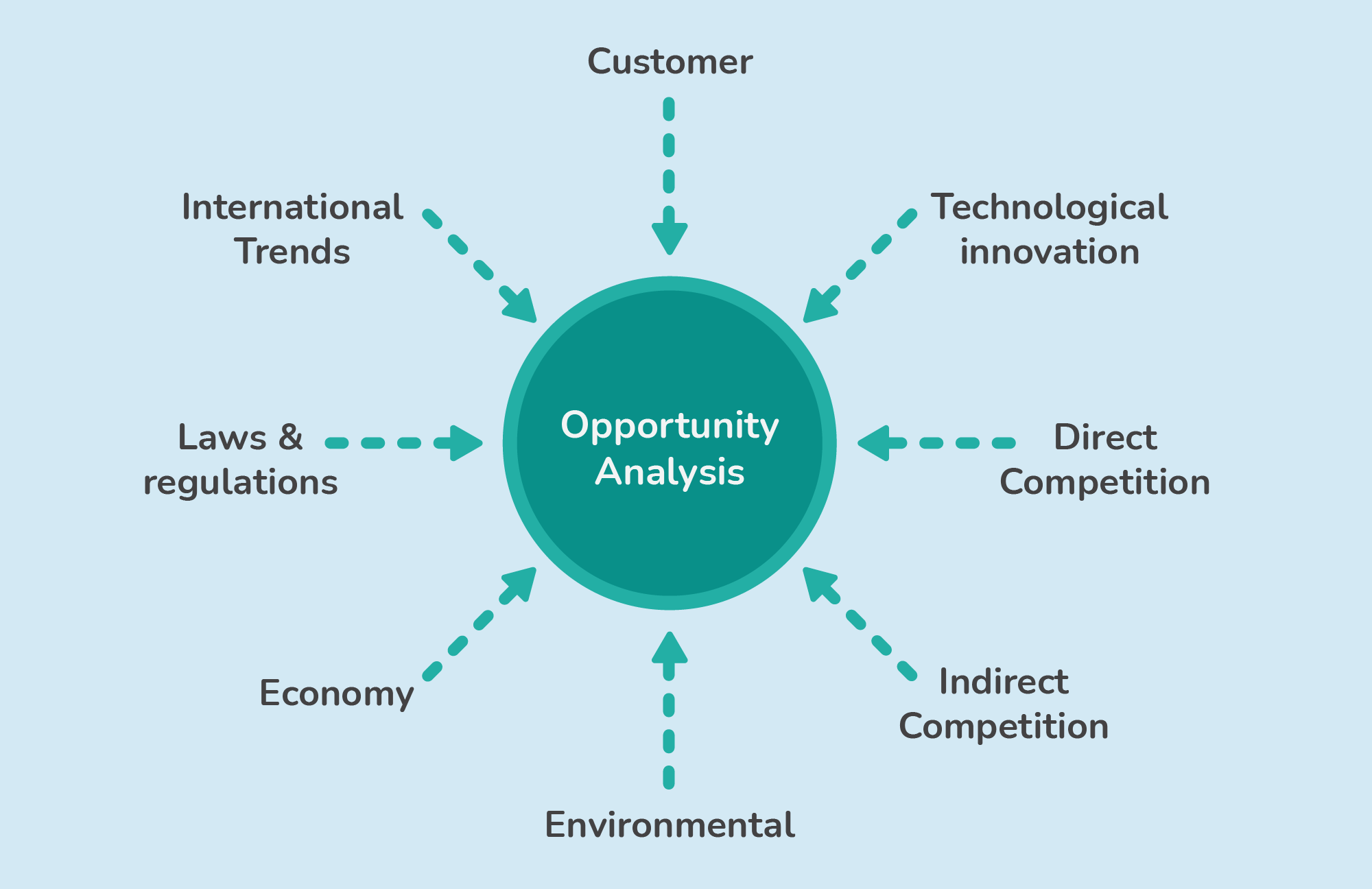 So, what is market opportunity analysis?
A market opportunity analysis is a process of discovering the most promising market opportunity based on the evaluation of various factors, such as business risk, competitor analysis, customer behavior, politics and economic situation.
Please keep in mind that  market opportunity analysis is a crucial part of strategic marketing. By conducting this analysis, a company can develop a strategy that will help them reach its business goals.  
The Benefit of Market Opportunity Analysis
After knowing the meaning of market opportunity analysis, then what are the goals and benefits of it for business?
The purpose of market analysis is to identify new markets so that a company can continue to develop and grow. Aside from that, market analysis has several purposes, such as:
To avoid a business loss.

To find products or services that customers need.

To understand the profits and losses that will be gained while running a business.

To create the best marketing strategy.

To identify competitors' location.
In addition, conducting market opportunity analysis give one a lot of benefits, such as:
Being a market leader by developing products and services that are customer-oriented.

Utilizing resources as efficiently as possible.

Increasing the profit and expanding market share.

Formulating the right price and developing a strategic marketing plan for the product.
How to Conduct Market Analysis
To find an effective marketing strategy, here are some tips that can be implemented in the business plan.
Find Your Target Market
The first step is you need to determine your target market that is best suited for the product you will be offering such as the demographic of customers.
A market has three major types, they are:
The consumer market (B2C)
The consumer market is an individual who buys products or services for their own needs, for instance, medicine and groceries.
The industry market (B2B)
An individual, organization, or group that purchases a service or product for use in producing other products or for use in their daily operations.
The reseller market (Retail)
An individual who purchases finished products and resells them to gain profit.
Understand Your Customers and Competitor
After determining your target market, the next step is to research and analyze your customers and competitors. Find out what are the concerns or problems your customers have. Then, figure out what kind of products or services will address those problems.
In addition, it is important to ensure that the market remains viable for a long period of time.
How to define your target market?
You need to identify the customers who have similar characteristics, such as age, gender, income, level of education, lifestyle, and more.
Make sure you analyze not only your customers but also your competitors to understand their product's strengths and weaknesses so that you can improve your company's marketing strategy. 
Understand Business Environment Factors
A business environment is anything that affects the activity of a business, either internally or externally, in an organization or company. 
Business environment factors include:
Resources 

Technology development 

Government regulations

Geopolitics shift

Economic indicators

Trade policies

Cultural and social norm
In order for a business to succeed, it is important to understand the business environment factors. By acknowledging the positive and negative aspects of the environment, a company could create a better strategy by taking into account all the risks that are likely to arise.  
Market Opportunity Analysis Using Digital Technology
Today, conducting market opportunity analysis is easier than before. It's all thanks to the advancement of technology as seen in the implementation of big data and analytics that can manage and analyze very complex data and present them into an easy-to-understand information.
Bhumi Varta Technology as a geospatial service provider helps businesses to do so with LOKASI Intelligence.
Through this platform, we can easily perform the analysis as it is equipped with machine learning and spatial data such as demography, point of interest, socioeconomic status as well as people density near real-time in a certain area so that it can give an accurate insight and can be used for business to plan their strategy ahead.
Complementing the Analysis Process with LOKASI Intelligence 
Based on the explanation, we can conclude that conducting market opportunity analysis is an essential step for a business to succeed.   
However, if the data is analyzed manually without the help of existing technology, it will take a lot of time, energy, and cost.
With LOKASI Intelligence, you can perform market opportunity analysis in a relatively short time and with precise and accurate outcomes. 
To know more about how we can help people's business and conduct market opportunity analysis, please contact sales@bvarta.com or  WhatsApp at  087777977731.
About Author