The Fast-moving Consumer Goods (FMCG) business is a key contributor to Indonesia's economic growth. Since 2018, Indonesian families have spent about 20% of their entire income on FMCG items. During the third quarter of 2020, each of Indonesia's FMCG segments witnessed an average rise in spending, with expenditure in the food category witnessing the greatest growth. LOKASI Intelligence could help FMCG firms identify market gaps and determine if a certain location corresponds to a particular SKU. To help companies identify the market gaps, they can use White Space Analysis to investigate deeper.
Then What is White Space Analysis?
It is the process of identifying and investigating possible locations in order to identify new possibilities. Essentially, white space is a gap that a company may take advantage of in order to extend its product sales into previously untapped markets. This analysis employs a variety of approaches that organizations may use not only to identify new possibilities but also to acquire a better knowledge of product SKUs that can be enhanced in certain locations and the spatial connection between their total product sales.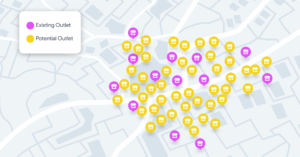 Different forms of white space mapping may be classified as either internally or externally oriented, depending on their purpose. Internally-focused mapping entails assessing your company's strengths and capabilities and determining what market opportunities and dangers exist. Performing this sort of white space research assists businesses in identifying the roadblocks that hinder them from exploring new goods, new customer groups, and new markets. Using an externally oriented white space mapping approach, you may assess which items or services are currently dominating the market and which are underselling in order to find a gap in the market. These gaps may include specialist target groups or non-consumers, to name a few possibilities.
One of the responsibilities of the White Space Analysis feature in LOKASI Intelligence is to assist customers in recognizing market gaps and spatial patterns and translating them into geographic approaches and suggestions.
To know more about this feature and how we help the success of your business spatially, contact us through sales@bvarta.com
About Author