Chief Executive Officer (CEO) Bhumi Varta Technology, Minn Tun hadir sebagai pembicara di seminar Welcoming the PDP Law: Gaining Consumer Trust With Reliable Data Protection Regime pada 11 Oktober 2022.
Membawakan tema perlindungan data pribadi, Min Tun  menjelasakan kepada audiens yang datang di acara yang diselenggarakan oleh Eurocham di Pullman Thamris Jakarta tersebut mengenai pentingnya melindungi data, terutama data pribadi.
"Secara global pelanggaran data naik 2,6% setiap tahunnya dengan kerugian financial lebih dari 4 miliar dollar Amerika Serikat," ucap Minn Tun.
Data pribadi ini terbagi menjadi dua kategori yakni general dan specific. Data general termasuk nama lengkap, kewarganegaraan, agama, atau data pribadi lainnya untuk mengidentifikasi seseorang.
Sedangkan, data spesifik seperti data keuangan, data kesehatan, orientasi seksual, data biometric, data genetic, pandangan politik, data pada anak, dan catatan kriminal.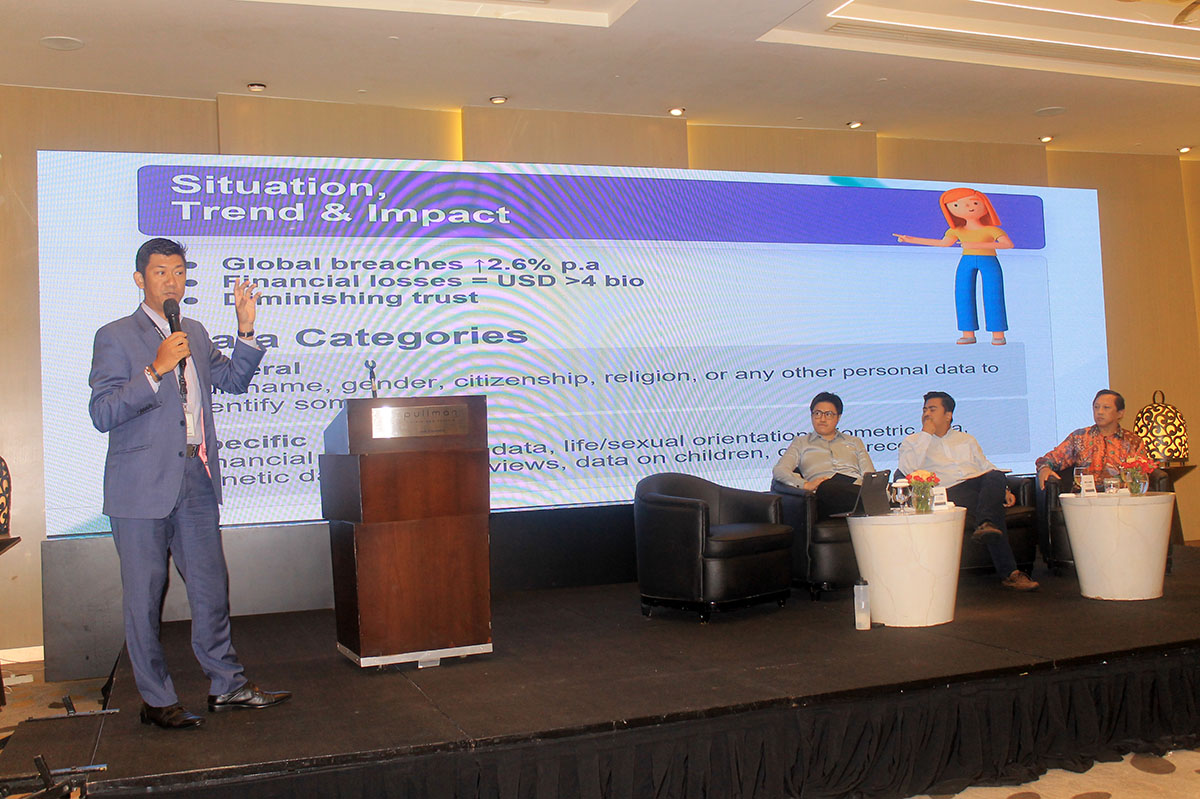 "Hal yang bisa kita lakukan untuk mencegah tindakan pelanggaran data ini salah satunya adalah dengan membangun human capital yang kemudian dibagi menjadi tiga bagian yakni data controller, data processor, dan data protection owner," jelas Minn Tun.
Seorang data controller akan bertanggung jawab untuk memutuskan bagaimana  data pribadi di process dan melindunginya dari bahaya.
Sementara itu, data processor bertugas untuk melindungi data pribadi individu, tetapi mereka hanya memprosesnya jika data controller meminta mereka untuk melakukannya.
Sedangkan, data protection owner bertanggung jawab atas kualitas, integritas, dan perlindungan data yang mereka miliki.
Selain human capital, " hal-hal lain yang dibutuhkan adalah membangun social engineering policies baik private dan government, dan best practices serta framework," ucap Minn Tun.
Acara ini juga mengundang beberapa expertise lainnya, antara lain Johnny G. Plate, Menteri Komunikasi dan Informatika, Semuel Abrijani Pangerapan Director General of Informatics Applications of the Ministry of Communication and Informatics, Rofi Uddarojat Head of Public Policy & Government Relation of Indonesian E-Commerce Association (iDEA), Adhika Wiyoso Associate Partner HHP/Baker McKenzie, Shaanti Shamdasani FOunder & CEO of S. ASEAN International Advocacy & Consultancy, dan Wichard von Harrach Vice Chairman of EuroCham Indonesia.
About Author