In today's technological age, digitalization of business is essential. It happens when businesses start to use digital technology to alter their business model.  Read on to learn more about digitalization and its implementation in business. 
What is Digitalization?
Digitalization is the use of technology to change business models and provide new income and new production opportunities. It includes all activities and processes enabled by digital technology.
Digitization process  in business may bring companies to success. This model business can improve the efficiency of operations and automation. The use of technology reduces human error and operational cost since it lowers the need of  human resources. 
We need to understand the role of technology in the entire digitalization process to have a deeper understanding of it. The digital revolution has transformed every aspect of business.
It changes from traditional to digital.  Data will not be stored in storage devices anymore, however we save them in the cloud. Data loss can be prevented by using the cloud, and backup functions can be performed automatically. 
The first step to digitalization is the change in customer satisfaction brought about by technology. Here are the purpose of digitalization,
Increasing the quality, attractiveness, ease of use, or delivery of the product or service. 

Automating products and internal processes in companies.

Simplify internal and external communication. 
According to those aims, businesses need to adapt as soon as possible so they can implement the technology in their entire business. As technology develops then followed by customers, as a result  businesses need to react quickly to these changes. 
The Benefits of Business Digitalization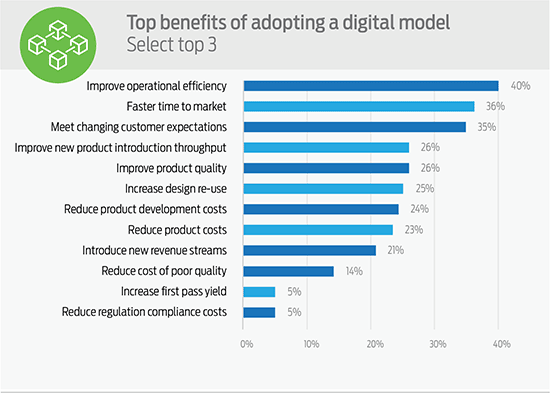 Digital technology may lead companies to gain more benefits. In the beginning, it might be costly and require some adaptation, however companies can get a huge benefit from it. Here are some benefit you may get when implementing business digitalization,
A secure data storage
Data which was previously saved in the computer, flashdisk, memory, and so on today moves to the cloud. The emergence of the cloud makes data become more secure than before. 
Additionally, the cloud allows us to collaborate easily, such as sharing data easily with others.
Reduce operational cost
Operational cost can be minimized thanks to digital technology. The use of automatic systems has replaced several human resources. In turn, companies are able to reduce the costs of paying their employees.
Furthermore, systems used by companies are capable of lowering human error. Thus, it will reduce the cost or loss that is likely to occur.
Enable Data Analysis
By storing data digitally, it is easy to analyze. Data analysis processes can be performed easier and faster with big data technology. 
The technology is able to collect data, categorize, and generate data visualizations as needed. A quick data analysis may have an important role in decision making.
Companies that implement digital technology have a better workflow. All of the operation can be performed efficiently resulting in reducing the cost. Either big companies or small companies, the use of digital technologies can benefit them  if they use  it correctly.
The Step of Business Digitalization
Digital technology can be implemented by a wide range of industries. However, you may encounter challenges along the way that must be overcome. Companies have to find the best system so their business can run smoothly. Generally, there are three steps of business digitalization,
Companies analysis, determine the target, and strategy development
To start it, you need to analyze the entire business process and companies asset strategies. It will be used to determine the efficiency of all departments, production, communication, and create a plan on how to improve it with the help of digital technology. 
If we want to minimize the risk, we need to analyze carefully and responsibly. It is not the technology itself that can fully transform the business, but its main purpose is to simplify it.
The introduction of digital technology
Choosing the right tools and tailoring a plan is the first step to get started. However, it takes time for companies to implement a new technology, test it, repair the technical mistakes, train the staff or clients, and more. The outcomes also need time, so we need to be patient and wait for the results.  
Analyze the outcome
After applying those steps, then we need to analyze the effectiveness of the system and to ensure that companies revenue has increased or other benefits. 
The use of digital technology shouldn't increase a company's workload. If it fails to achieve the target, then it needs to be fixed. 
The Example of Business Digitalization
There are many examples of digital technology implementations that have been successful. You can google on your phone and find some of the examples. One of them is a banking application. 
The banking industry offers many benefits to its customers. All of the bank's functions can be performed on the apps. It gets transactions done more quickly and easily. Not only do customers benefit from it, but the banking industry as well. 
Today, most banks do not have branch offices. Prior to today, banking activities could only be done at bank offices or ATMs, but now we can do those activities with our smartphones. 
Banking can be developed without many challenges thanks to digital technology. Online banking system itself is quite secure and fast, resulting in many customers trusting them. 
Another example of digital technology being effectively implemented is in the advertising sector. When we are scrolling up and down in social media, we often bump into many advertisements. Nowadays, the most popular  advertising platforms are  Facebook and Google ads.
Advertising on these platforms is far more affordable than on TV. In addition, because of digital technology, we can perform market research easily. Market data is easier to obtain through digital advertising and online surveys. 
To compete with their competitors, companies must adopt technology. They will be left behind by their competitors if they don't use the technology.
Digitization is a key to success for companies to be able to survive in this digital era. Thus, before you start your own digitization,  you need to come up with an effective and efficient strategy to ensure that the strategy achieves the business goals.
Businesses also need  experts who are capable of providing the system of digital technology for their business. This aspect also needs careful consideration.
Improve Business Analysis with LOKASI Intelligence
Today, the implementation of digitization in companies or startups is a must. By applying business digitalization, companies will be able to gain lots of benefits such as cutting operational costs and improving business analysis. 
A good business analysis will generate a good outcome as well. In addition, analysis that uses data is able to inform decision making and increase accuracy, efficiency and response. 
Additionally, business analysis enables a company to clearly identify its goals and objectives. To improve business analysis accuracy, companies can use the LOKASI  Intelligence platform.
It is a geospatial technology that integrates analytic and machine learning to generate an accurate and precise analysis. Through this platform, companies will be able to find new business opportunities, location profiling, data visualization and so on. 
Find out more about how we help businesses to grow their business by contacting us sales@bvarta.com or whatsApp at 087777977731.
Photo by Federico Orlandi – Pexels
About Author